Before getting started, review the security steps needed for your version of MacOS:
If on an Apple Silicon Mac, you'll need to change the startup security settings as described in the above article before starting the installation process.
Firmware update and Control 2 installation:
Head to our downloads page and fill out the email form to receive the latest download:
https://apogeedigital.com/installer-downloads
Once downloaded, unplug the Symphony and run the included uninstaller.
In this download there is a firmware update file for the Symphony Desktop. You'll drag this file to the included USB Thumb Drive and insert this into the Symphony Desktop.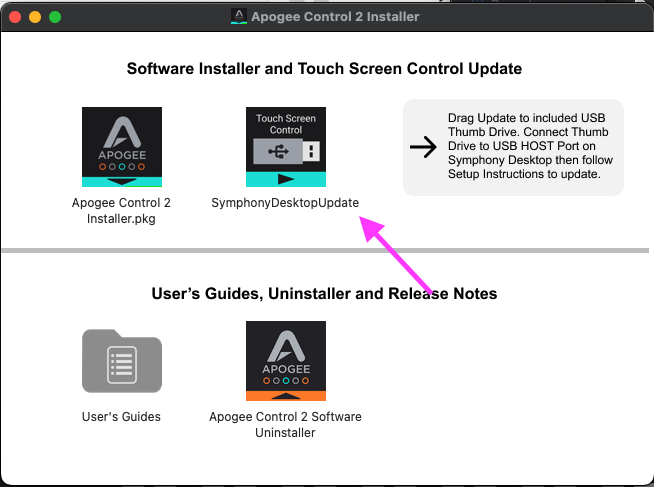 Once the drive has the file and is inserted in the back of the Symphony Desktop, head to the third page of the settings screen on the Symphony Desktop Touchscreen and choose Update: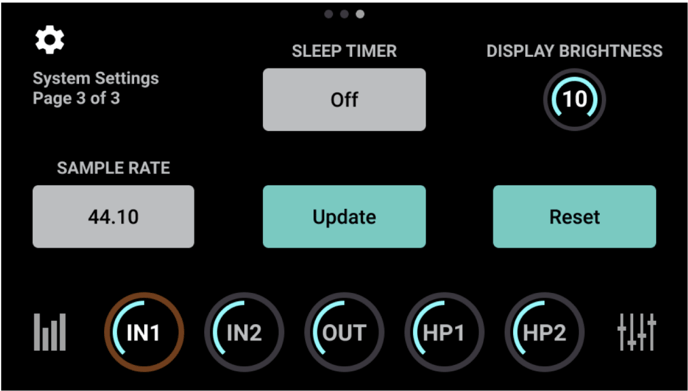 Now you can run the installer to update the Control 2 app on your computer.
During the install, you'll be prompted to choose what additional plugins to install. This installer includes trials for extra Apogee plugins that work with the Symphony DSP. If you don't wish to start the 14 day trial at this time, you can uncheck all the boxes except for the ones shown checked below: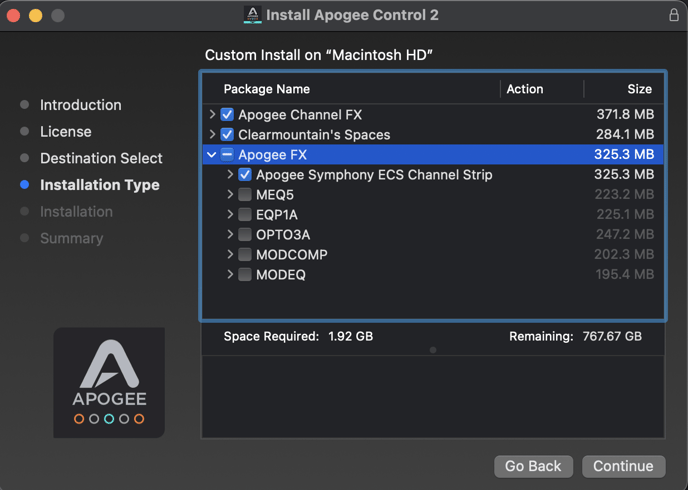 At the end of the install, it will ask you to restart your computer. Before restarting, head over to System Preferences > Security to "Allow" the Apogee Extension.
For more detail on the security settings for MacOS needed for installation, head here:
Head back to the install window and click the prompt to restart your computer. Once you are back up, you should be good to go!
Using the Symphony ECS Channel Strip and Clearmountain's Spaces:
If you want to use the included ECS Channel Strip and Clearmountain's Spaces plugins, you'll also need to download and install iLok as well as have an account set up. You can use this link to download the latest iLok License Manager app and create an account if you don't have one already.
https://www.ilok.com/#!license-manager
Once installed, you'll enter the Activation code generated on Apogee's customer portal during registration into iLok License Manager: