Direct monitoring with Symphony MK II Thunderbolt in Symphony Control
The Mixers in Symphony Control are used for Direct Monitoring.

This is explained in the guide here on pages 29-46:
https://apogeedigital.com/pdf/symphony-io-mkII-users-guide_april_2017.pdf

You can setup any output or headphone output for direct monitoring with the Mixers 1-4 in Symphony Control.
In your I/O section of the Control software you will change the Source under your Output Analog 1-2 to be "Mixer 1", or "Mixer 2", etc.

Then in your Mix section, all input and software playback (playback 1-2 is your default software playback) will be routed through Mixer 1 through your output.

Then you will raise the Mixer 1 faders for the inputs/playback channels you want to hear.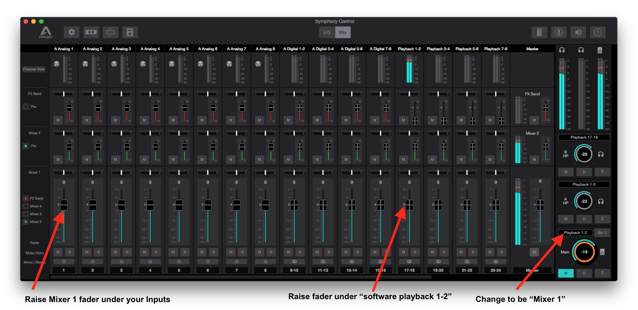 When doing this inputs are directly routed through outputs in the Control app (bypassing any recording software).
​
If using inserts you would mainly want to use separate input and output channels for sending signal to / from your outboard gear.


A video guide for direct monitoring using the Mixers in the Element Control software is here:
https://knowledgebase.apogeedigital.com/hc/en-us/articles/360045884714-How-do-I-get-started-with-the-Apogee-Control-mixers-
https://knowledgebase.apogeedigital.com/hc/en-us/articles/1260807031130-Using-Apogee-Control-s-Direct-Monitoring-Template-for-Low-Latency-Input-Monitoring-
​
Although this is a bit different for Symphony this will function similarly.