Unable to change clock source of Element or Ensemble Thunderbolt in macOS 11 Big Sur
If you have a Mac running macOS 11 Big Sur, and the clock source of your Element or Ensemble Thunderbolt is stuck on "Optical" or "Word Clock" where you are unable to change it to "Internal", here are some workarounds that have worked for other customers.
NOTE: Apogee is working on an update that will resolve this issue on Intel Macs, as well as make these units compatible with Apple Silicon Macs. See our Compatibility Blog Post for estimated dates.
Method 1: Connect to another Mac running an older OS
For this method, you need to connect to an older macOS version. This can be on another Mac, or on a separate partition on your current Mac where you've installed the older OS.
Connect your Element or Ensemble to a Mac running anything between macOS 10.12.6 Sierra - 10.15 Catalina. Make sure the Element/Ensemble software is already installed.
Make the desired changes to the clock source setting of your Apogee interface, then disconnect from this mac.
Connect to the Big Sur mac. Your settings changes should carry over.
If this does not work for you, please try Method 2.
Method 2: Delete the Apogee .plist preferences file
This method uses your existing computer on macOS 11 Big Sur. A second computer or partition is not required.
It will only change the setting to "Internal". If you need to use an external clock source, Method 1 is required.
Power OFF or disconnect Element or Ensemble Thunderbolt from your computer.
Using Finder, navigate to the User Library folder:

Click GO at the top of the screen, and select Library from the menu.
You may need to hold down the ALT/OPTION key on the Apple Keyboard for the "Library" option to appear: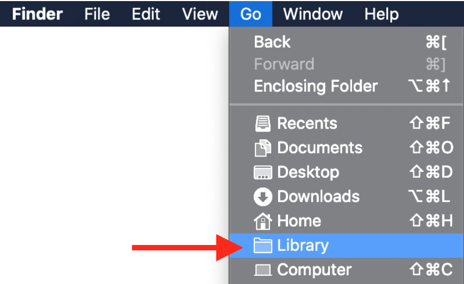 In the Preferences folder, find the file com.apogeedigital.ApogeeControl.plist and move it to the Trash.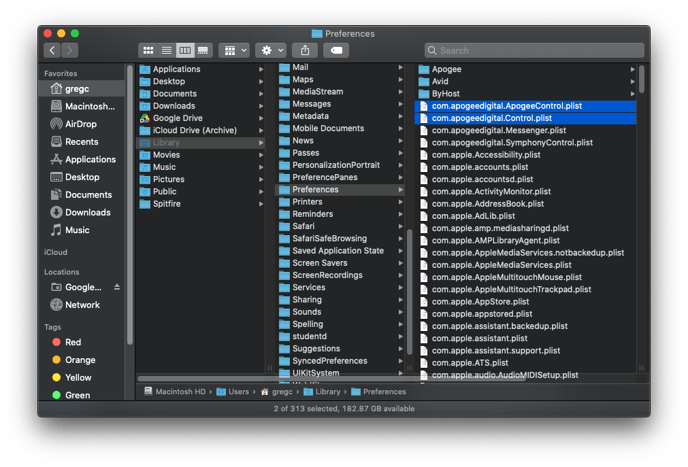 Empty the Trash.
Power ON or connect Element or Ensemble Thunderbolt to your computer.
The Clock Source should have returned to the "Internal" setting.