How to record with the low latency mixer on Ensemble FireWire
1. Set the software application's mixer output to Out 1-2 (Stereo Output).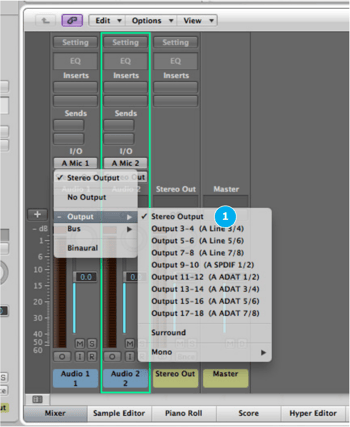 2. In the Maestro Output Routing tab window, assign Mixer 1 to hardware output Line 1/2.

3. In the Mixer tab window, set the Software Return drop down menu, on both Mixer 1 and Mixer 2 (if desired), to Analog 1-2. Set both the Software Return and Mixer Master faders to 0dB.
4. Play the session in your DAW. You should hear playback in headphones connected to Ensemble's HP 1 and HP 2 outputs.
5. Ensure the desired tracks are in "record ready" in your DAW.
6. Connect the signal(s) to be recorded to Ensemble's hardware inputs - the signal levels will appear on the Maestro Mixers' meters.
7. Raise the faders to create a suitable monitor mix of the input and playback signals. Record!
For more details and diagrams, please see the Ensemble Users Guide - Mac OSX Lion