How do I use Symphony Desktop's Optical I/O to expand input channels?
Symphony Desktop has optical input and output ports in ADAT/SMUX and SPDIF formats you can use to connect up to 8 more channels of ADAT optical inputs and outputs from any other AD/DA interface with ADAT optical I/O.
Here are the channels of I/O available in each optical format and sample rate:
ADAT: 8 channels 44.1-48 kHz on 1 Toslink connector
SMUX: 4 channels 88.2-96 kHz on 1 Toslink connector
S/PDIF: 2 channels, up to 96 kHz on 1 Toslink connector
Symphony Desktop requires being connected via USB to a Mac or Windows 10 PC and selected as your main interface for optical I/O functionality.
If you want to use analog inputs from an external interface connected as ADAT inputs to Symphony Desktop you would configure your external interface's analog inputs to go through its optical ADAT output.
Then you would connect a toslink cable from your external interface's ADAT OUT to Symphony Desktop's ADAT IN. Then you would see these additional ADAT channels shown on Symphony Desktop's ADAT inputs.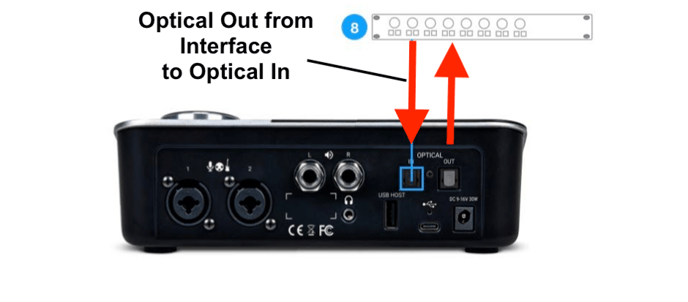 Because Symphony Desktop has auto sample rate conversion no clock settings need to be made, both Symphony Desktop and your external device will remain on internal clock settings.
NOTE: Symphony Desktop will not automatically change between ADAT/SMUX and SPDIF protocols. You must manually set Symphony Desktop to match the protocol of the device sending the optical audio signal.