Output volume level goes to max when using Apogee interface with Cubase, Sonarworks.
Symptom: When opening a session or selecting Apogee as the audio device, the output goes to full volume every time.
Solution:
In Cubase, go to Devices Device Setup Control Panel Core Audio Device Settings. Under Options, verify that set device attenuation to 0 dB is unchecked.
NOTE: In Cubase 10 and up, this setting is in Studio Setup Control Panel
In Sonarworks, go to Systemwide settings and deselect the "Adjust output device gain checkbox.
---
How is this possible? All modern Apogee interfaces have input gain and output volume that are digitally controlled rather than an analog potentiometer that must be physically turned. The advantages of digital control are many:
Improved Sound Quality (turning the gain doesn't cause a "scratchy" sound, and enables the advantages of our Step-Gain preamp technology)
Settings can be saved to presets that can be recalled later.
You can also control the output volume directly from the Mac's Keyboard, Touchbar, or Volume icon in the Task Bar.
Cubase: In Cubase this is called "Device Attenuation." The intent of this setting is to attenuate, or lower your volume, so you don't get blasted. When selecting any audio device with this setting turned on Cubase sets the device's output volume to 0, since most simple sound cards have 0 as the lowest value. Since your Apogee is rating the Outputs in digital decibels, where 0dBFS is the highest value, this setting will have the unfortunate opposite result, maxing out the volume. Be sure to disable this setting to prevent getting blasted.
Sonarworks Reference 4: This is a sound calibration software that many customers may have and forget is even running. It has a setting to Auto adjust output device gain, or volume.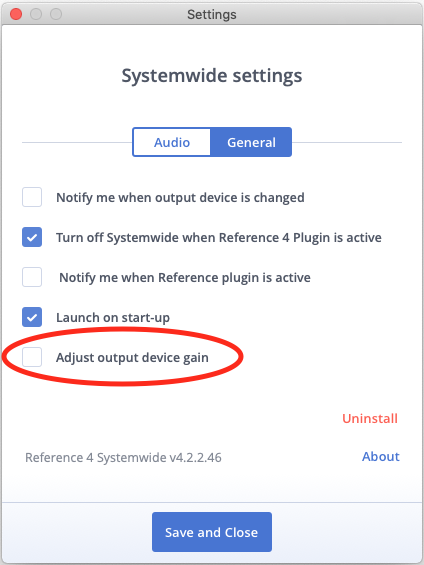 Please remember, many other softwares not listed here have these types of settings so be sure to check all the softwares on your computer!